A special note from former CIA Officer Jason Hanson:
Why I'm giving you 2 of my
favorite survival tools
for FREE
(For a limited time, while supplies last)
Dear Friend,
In the next few days, I am (with your permission) going to send you two of my favorite survival tools absolutely FREE.
Here's why…
America is a very different place today than it was a decade ago.
Maybe you've noticed it too.

Personally, I believe it's due to a combination of things…

--The fact that America is so deeply in debt – over $16 TRILLION dollars - yet the government refuses to stop printing money.

Most people don't realize that since 1971, the U.S. dollar has lost over 80% of its purchasing power. It's only a matter of time before the dollar collapses and is replaced as the world's reserve currency.

--The fact that we now live in a society where self-reliance and personal responsibility are no longer respected and revered by a large percentage of the population.

Many folks these days believe the government owes them a living. According to recent census data, over 100 million Americans receive government assistance, and the usage of food stamps has increased 70% over the past 5 years.

--The fact that individual privacy is vanishing at an alarming rate. For example, did you know that local governments are installing devices on buses that record every conversation?

And it's tough to walk down the street without being recorded because there are over 30 million security cameras in the U.S., which record 4 billion hours of footage each week.

Some people may not think this is a big deal, but when your every move is monitored and recorded it often leads to a loss of freedom.

My point is, with everything going on in our country right now, it's more important than ever that you're self-reliant and know how to properly protect your family in the years ahead.
My name, by the way, is Jason Hanson.
I'm a former CIA officer and a security specialist.
You may have seen me on ABC's Shark Tank, the NBC TODAY Show, read about me in Forbes or heard about me on NPR.
In fact, here's a picture of Lester Holt of the NBC TODAY Show after taking my training...

As I just mentioned, because it's so critical to be able to protect yourself and your loved ones, let me quickly show you the first survival tool I'm going to send you absolutely free…
Survival Tool #1- The first tool is the folding credit card knife. This is the credit card knife shown in my Spy Escape & Evasion course. This is the exact one I carry with me on a daily basis. And, it easily fits inside a wallet.
It also takes just seconds to transform into a razor sharp fighting tool.

Survival Tool #2: The second tool I want to send you for free is the 11-in-1 wallet survival tool. Check out all of the different functions of this small yet extremely useful tool…
The tool is made of stainless steel and will last you for years. It also comes with its own carrying case. Personally, I never leave home without this tool in my pocket.

Today, you can get both of these tools for free… plus 5 other free gifts.

How?

By claiming your FREE trial membership to the Personal Protection Alliance.

What is the Personal Protection Alliance?

In short, it's a private organization I helped found a few years ago to give every freedom-loving American insider access to the most important safety and survival information on the planet.
Like I just mentioned, with the government's $16 TRILLION debt… with our personal privacy vanishing at an alarming rate… and with natural disasters and food shortages…
It's critical that you're properly prepared to take care of your family in the future and that's exactly what the Personal Protection Alliance helps you do.
For instance, the foundation of the Personal Protection Alliance is the Jason Hanson Survival Letter.
This is an information packed newsletter I personally write that's delivered to your mailbox around the 15th of each month.
The truth is, each issue is a "survival seminar in print" that gives you tips, secrets, and strategies to keep you better protected on a daily basis.
Here's a small sample of the incredibly valuable information you get every month in the Jason Hanson Survival Letter.
How to build a Pocket Trauma Kit and why this should be in every American's home and vehicle. (This kit easily fits in your pocket and contains three pieces of gear that could save your life in a medical emergency.)
How to protect your privacy both offline and online, including how to surf the Internet anonymously (using military encryption software), and the single best way to dispose of an old hard drive.
Handgun drills to help you become a deadly accurate shooter, including the "6 Dot drill" and "5 Square drill." (I give you each of the targets I personally use for these drills.)
The assets you can legally hide from the government, including the two best countries to open a foreign bank account that Uncle Sam will never know about.
Simple and inexpensive ways to hide money around your home so nobody will ever find it. (One method costs less than 98 cents to implement and virtually guarantees a burglar will never be able to find your stash of money.)
Hand to hand defense secrets to help you protect yourself against multiple attackers. (Anyone can use these simple moves even if you have zero martial arts experience.)
How to make a Swedish fire torch in a survival situation. (It only requires one piece of wood and could be the difference between life and death in a winter survival emergency.)
The 3 best water purifiers to own, including the purifier that should last you the rest of your life because it never needs its filter changed.
Food storage secrets to ensure you always have an entire month's supply of food at the very minimum. (This is the exact way I built up my family's year supply of food without breaking the bank.)
Carjacking countermeasures and the most important thing you can do to prevent a carjacking in the first place.
The $20 survival knife that should be in your 72-hour kit, glove box, and all of your "bug out bags."
And much, much more…
The fact is, I constantly travel around the U.S. and the world, not only teaching security courses but also keeping up-to-date with the latest security measures.
And this what I share with you every single month in the Jason Hanson Survival Letter.

In addition to the Jason Hanson Survival Letter, all members of the Personal Protection Alliance get access to the password-protected members only website which includes…
Exclusive Training Videos - Each month, I post a brand new training video. These videos cover shooting drills, new gear and gadgets, and other important topics such as proper handgun cleaning techniques and the simple alarm system that should be on the windows of your home.
In fact, the video I just posted reveals what I believe is the most important handgun accuracy secret ever. It involves trigger control, and I bet not 1 in 1,000 people have heard of it. But after watching the short, 5-minute video, you'll no doubt be able to improve your shooting accuracy.
Monthly Legal Briefing - My wife happens to be an attorney. She graduated magna cum laude in the top 10% of her class. Each month, she evaluates and breaks down a recent self-defense encounter. This one-page legal briefing covers the aspects of deadly force law to help you better understand when you're legally allowed to defend yourself and your family in this uncertain world.
Defensive Pistol Targets - You'll get access to the same targets I use in the training videos. All you have to do is print them off from the members only site and take them with you to your local range to help you become a better shooter.
Gear Reviews - Each month you'll get an in-depth gear review whether it's a holster, knife, rifle, fire starter, or any other piece of gear that could save your life one day. In fact, last month, we reviewed a unique survival axe that most people don't even know exists and is a must have for any long-term survival situation.
The bottom line is, I can tell you with 100% certainty that taking your FREE trial membership of Personal Protection Alliance is the best way to keep your family safer in the months and years ahead.

After all, if you don't stay informed about the latest safety and survival secrets then you won't be properly prepared when you find yourself in an emergency situation… or when things truly get bad in this country.
Even better, when you take your FREE trial membership to Personal Protection Alliance today, not only do you get the monthly Jason Hanson Survival Letter, and access to the members only website… but you also get the 8 bonuses below...
8 Free Bonuses
Bonus #1: Folding credit card knife.
Bonus #2: 11-in-1 wallet survival tool.
Bonus #3: Special Report: 7 Ways to Keep Your Family Safer This Year. This report shows you how to avoid a deadly home invasion… a simple $15 alarm that could save your life when traveling… why you should never answer your front door (and what you should really do when someone knocks)… and the $20 item every homeowner needs in front of their house… and much more.
Bonus #4: Rifle Gear Cheat Sheet: The AR-15 is one of my favorite rifles and one of the best firearms to have with you during a true societal crisis. In the Rifle Gear Cheat Sheet, I reveal the critical gear you should have on your rifle including the best optics, my favorite sling maker, the type of flashlight I use on my rifle, and my favorite carrying case.
Bonus #5: Special Report: Everyday Carry Gear: The 11 items I Carry With Me On a Daily Basis. This report reveals the survival gear I carry daily, including the type of gun I carry, the credit card knife, the tactical pen, and several other items that could save your life in an emergency situation.
Bonus #6: Special Report: Insider Secrets of Buying and Carrying Your First Concealed Carry Firearm. This report could save you hundreds of dollars by helping you choose the right gun for concealed carry. It mentions one of my favorite holsters and even discusses how to fly with a firearm when traveling. What's more, this report has a bonus section called, "The top 5 things you need to ask before taking any firearms training.
Bonus #7: Special Report: 30-Day Urban Survival Guide: What You Need to Know to Be Self-Sufficient for 30 Days. In this report, you'll discover how to easily store emergency water including the best container to use… how to store food so it lasts 30 years or more… the 3 types of guns every American ought to own… and 12 other pieces of gear to help you survive a blackout or natural disaster.
Bonus #8:The Escape Bag Blueprint: 37 Items You Must Have to Survive a Crisis. This guide contains everything you need to know to build the ultimate Escape Bag. All 37 items are covered in detail (with over 60 pictures) including water, food, personal protection, shelter, clothing, fire, lighting, communication, tools, and several other items.
For instance, one of these items is a special tape used by the military to repair tanks, Hummer's and more. This tape has a thousand uses and is much better than duct tape, Gorilla tape, or any other type of tape for that matter.
That's eight incredibly valuable bonuses you get for free by taking your FREE trial membership to the Personal Protection Alliance today.

Here's even better news…
You have two choices when taking your FREE trial membership to the Personal Protection Alliance.

First, you can take a free trial membership as a Gold Member and get everything I've described absolutely free.

After your FREE 30-day trial, if you love being a member of the Personal Protection Alliance, do nothing and your card will be billed $19.95 per month for dues. This money pays to create the monthly Survival Letter, monthly training videos, gear reviews, and all of the lifesaving information we send you each month.

Your second option is to take a FREE trial membership of the Personal Protection Alliance as a Titanium Member.

What's the difference between Gold Membership and Titanium Membership?

Well, as a Titanium Member you get the monthly newsletter, access to the members only website, and all of the free bonuses…

And in addition, the Alliance will come to your defense if you ever have to use a firearm to protect yourself.

In other words, if you're ever involved in a self-defense shooting you get $1 MILLION worth of coverage for your attorney's fees for both criminal and civil proceedings.

The Alliance will help you secure the best self-defense attorney in your area and you'll get a Titanium Membership card with a special phone number that gives you 24-hour access to your legal protection (My personal membership card is below.)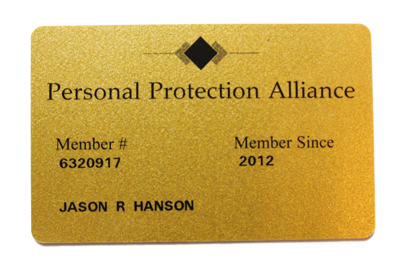 The fact is, the lawyers I've spoken with have told me that on the low end it will cost $30,000 if you're ever involved in a self-defense shooting, and more likely it will be over $50,000.

Of course, they also pointed out that many cases run into the six-figures, such as the case of Harold Fish.

Mr. Fish was hiking in the Arizona mountains when a man violently attacked him. He was forced to defend himself and shoot his attacker.

Unfortunately, Mr. Fish talked with police and prosecutors before getting himself an attorney. (Something our attorneys strongly advise against.) He ended up spending almost half a million dollars in legal fees to prove his innocence.

If you're a Titanium Member, you won't end up like Mr. Fish because you get $1 MILLION worth of coverage. In other words, you won't have to worry about bankrupting your family if you ever have to use your firearm to protect yourself or them.

So what's the investment for Titanium Membership?
Well, if you could put a price on what it would mean to have this legal protection, in addition to everything else above, this would obviously be worth thousands of dollars.

But during your 30-day trial you get the $1 million in legal protection, the monthly Jason Hanson Survival Letter, members only website, and free bonuses, absolutely FREE.
After your FREE 30-day trial, if you love Titanium Membership in the
Personal Protection Alliance
your dues are only $39.95 a month.
And, as I just mentioned, considering membership could save you from a six-figure legal bill, I'd say this is one of the smartest investments you could make.
And it's not just me saying this… here's what a few
Personal Protection Alliance
members have to say…
"This is great. The legal support itself is worth its weight in gold…"
~Matt Winters, Springfield, VA

"In case I would be forced to defend myself and family, I want the best legal protection I can get without losing my practice to pay for it. I am thankful you sent me this email…"
~Dr. Gary Nelson, Cedar Rapids, IA

"I hope I never have to respond with my weapon but if the inevitable occurs this Alliance will sure be well worth the price."
~Donald Maclay, Homosassa, FL

"I am happy that you invited me in the Alliance. I accessed your videos, targets and other things on the members' site and thought they were great. You have perfect timing for what I need at the time on things to improve accuracy, legal advice, and legal protection."
~John Mitchell, Prescott, AZ

"You are the best! Not only do you give exceptional advice, super easy to understand tips/techniques but you are generous to a fault. No wonder I'm a member of Personal Protection Alliance and have recommended it to all my family and friends."
~Debra Rannon, Houston, TX
If you're ready to take your FREE trial membership to the
Personal Protection Alliance
today, as either a Gold or a Titanium Member, simply click on the GOLD or the TITANIUM button below.
As soon as you take your free trial membership, you'll be given access to the members only website… you'll begin receiving the Jason Hanson Survival Letter in your mailbox around the 15th of each month… and your free bonuses will be immediately shipped to you.
Keep in mind…
***This is a limited time offer***
Don't miss out on this opportunity to get FREE insider access to the most important safety and survival information on the planet that could save your life one day.

Remember, when you take your FREE trial membership as a Gold Member today you get the monthly Jason Hanson Survival Letter, access to the members only website and all of the free bonuses…

And, when you take your FREE trial membership as a Titanium Member you get everything mentioned above, plus $1 MILLION worth of legal coverage, and the membership card that gives you 24-hour access to your legal protection.

To take your FREE trial membership in the Personal Protection Alliance today choose your membership below: (Titanium is on the left, Gold is on the right.)